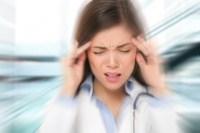 At Five Star we firmly believe in treating more than just the patient's teeth. We believe in treating the patient's face and jaw. This concept is Dentofacial Orthopedics. Traditionally, extraction of teeth and surgery were common methods to close gaps or widen the upper arches of the jaw. Problems can arise leading to chronic TMJ (temporomandibular joint) dysfunctions otherwise known as TMD.
Extraction of teeth or surgery to widen the jaw can cause chronic TMJ problems. This includes painful jaw clicking, lockjaw, or chronic sleep apnea later in adulthood. Chronic headaches, ear and vision problems, and even back pain can arise if the TMJ isn't functioning properly.
These problems are so common that it has become an epidemic in the U.S., with some 80 million citizens considered to have TMJ problems at some point in their life. TMJ allows for movement both up & down and from side to side, making it one of the most complex joints in the body. This can make severe TMJ disorders difficult to treat effectively.
TMJ Help
If the patient's TMJs are out of place when they chew or bite down, it may cause stress on joints.  This cause chronic problems to arise.
When the condyle is forced back too far and pushes into a ligament (posterior ligament) that contains blood vessels and nerves. The pressure on these nerves and blood vessels can cause incredible discomfort in a person's lifetime if not corrected. While braces create straight teeth into alignment, if the patient's arches and mandibular position remain untreated, TMJ dysfunctions may arise.
When the jaws align correctly and the arches are rounded out, the patient will spend far less time in straight-wire treatment. The Dentofacial Orthopedic treatment is revolutionizing the way ortho is done. It is the proper way to go about getting your patients the celebrity smile they love!