Five Star is proud to introduce its new line of Memory Gear upper expanders! These expanders will self-activate to expand upon delivery. The Memory Gear expanders are designed with individual leaf springs in the middle of the gear. Each leaf spring equals 1 ½ mm of activation. The leaf springs compress when received back from the lab and will continue to expand 1 ½ mm per leaf. When you receive the appliance back from the lab, it will be held together with a metal prong tool. Deliver the appliance with the tool in place, and then remove the tool and the gear will be activated.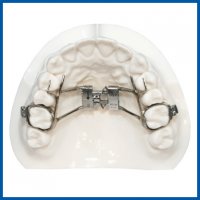 There are 2 styles of memory gear expanders we have to offer. The first is the re-activation memory gear. This will expand on initial delivery in the mouth, and then can be re-activated for any additional expansion. There are 2 sizes, one will expand 3 mm upon initial delivery, and the other will expand 4 ½ mm upon initial delivery. It can then reactivate to expand an additional 3-4 mm. When it is first delivered in the mouth the expander will be active for approximately 2 months. After 2 months has passed, you can re-activate the gear for additional expansion by turning the gear like you would a normal RPE. Each turn on a memory gear expander is .1 mm, which means for every 10 activations you will load the appliance 1mm.
The 2nd style of memory gear expander is fully self-activating. It will look the same when it comes back from the lab held together with a metal prong. Then simply remove the tool and the appliance will activate. There are also 2 sizes of the self-activating memory gear. One is 6mm and the other is 9mm. You will get the full expansion of each gear upon activation. If you do not require that amount of expansion, you can deactivate the gear by placing flowable composite over the springs.
Click here for activation instructions!