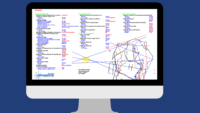 Five Star has the most advanced Sassouni Plus Tracing System on the market. Developed with Dr. Richard Beistle, one of the leading Sassouni Plus experts in the world. Our Sassouni Plus Tracing System features Advanced Airway Metrics and Advanced Vertical Metrics. A snapshot of the tracing is pictured above.
Our advanced vertical metrics include both an age adjusted arc and a maxillary cant adjusted arc to help give you the patient's true vertical. Our advanced airway metrics will show you measurements for the upper, middle, and lower segments of the airway. The analysis will also show you if the airway is being compromised by a posteriorly positioned maxilla or mandible.
Check out this video to learn more about the Sassouni Plus Tracing System. 
Five Star Orthodontic Lab and supply has been servicing the Orthodontic community for over 30 years! We are here to be a resource for your practice. If you have any questions or want to learn more about the Sassouni Plus Tracing system contact us today.