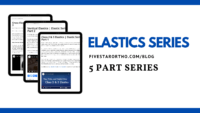 We've put together a 5 part series featuring tips, tricks and helpful hints for elastics. Learn more about each by checking out the blogs linked below. 
Five Star Orthodontic Lab and supply has been servicing the Orthodontic community for over 30 years. Most of our highly skilled techs have over 10 years of experience! Our department supervisors average over 20 years of experience! Providing helpful tips and tricks is just part of the #FiveStarWay and the consultative approach we take with our doctors.
To access more helpful tips subscribe to our YouTube channel or Join the Newsletter.